Rawhide & Bones

Need something for your dog to gnaw on instead of your shoes? We've got all the greatest options to keep them happy! All of our Rawhide comes from either the U.S.A. or South America.
What's the difference between U.S.A. and South American Rawhide?
U.S.A. Rawhide is usually from corn-fed beef raised in America. It is very palatable and thick. American Rawhide is considered to be of the highest quality.
South American rawhide comes from range cattle, which are usually grain-fed and have very little fat. The low fat content and the warm weather causes the hide to be a bit thinner but still a good quality.
Is Rawhide heathy for my dog?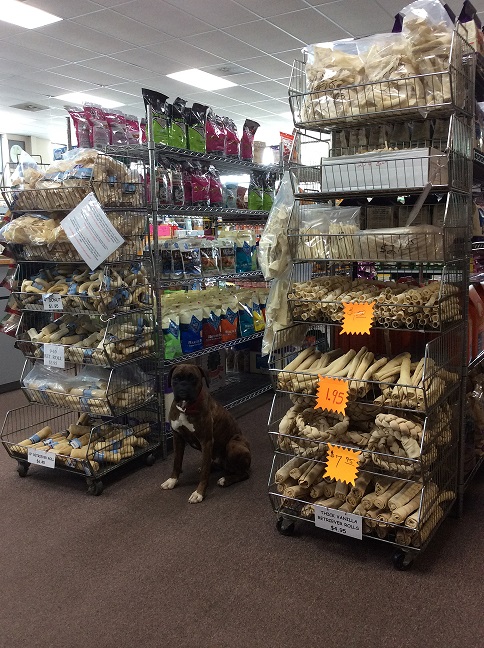 The short answer is yes. However, anything in excess can have a negative effect. 1 or 2 bones a day or 1-2 hours of chewing should suffice. Sadly, not all dogs can have Rawhide…
Dogs that have a gastrointestinal disease or that have strict dietary needs may want to avoid it. Also, if your dog has a history of swallowing chews whole, they should probably not receive chews while unattended. All this being said, there are two big benefits to be had from your dog chewing rawhide.
• Every dog has the fundamental desire to chew. It is normal for all dogs. Rawhide allows your dog to vent unspent energy into a healthy solution rather than chewing up your shoes or furniture!
• Dental health is your biggest benefit of all! Your dog's mouth is a breeding ground for bacteria which can form plaque and bad breath if left alone. This excess of bacteria can cause gum disease, kidney disease, and even heart disease. As your dog chews and the hide becomes moistened, their teeth can sink into the hide. This allows the removal of plaque buildup and excess bacteria while helping to strengthen gums.
Of course, if you still need another reason to treat your dog with Rawhide, now you can save by buying in bulk!
Mix and match 5 Rawhides to get 10% off, or 10 or more to get 20% off!